CALLING ALL HANDS!!
From now until Dec. 9th, Champagne Sunday is running an Indiegogo crowdfunding campaign to raise money for their new four-song EP (Life Fantastic), associated music videos, and supporting tour. In order to reach a larger audience, we need these and other promotional tools in our arsenal, but we need your help to get them.
This campaign is offering a bunch of cool perks, depending on your donation level. Everything from an awesome hug to a signed copy of the new CD up to house concerts and us writing a song about you. Learn more at: http://igg.me/at/champagnesunday
---
Next 5 shows of 12 upcoming:
SeaTac International Airport

Seattle, WA

- 10:00 am

Al Lago Lake Tapps

Lake Tapps, WA

- 8:00 pm

The Hub at Gig Harbor

Gig Harbor, WA

- 7:30 pm

Details:

Returning to the Hub at Gig Harbor one last time before we leave for tour. Come on out and catch a show while you still can!

Seabold Hall

Bainbridge Island, WA

- 7:30 pm

All-In Tour - Urban Onion - Olympia

Olympia, WA

- 8:00 pm

Cover:

$7 door

Also Performing:

Kim Archer

Details:

Each of these artists are full-time music professionals, who are supporting their latest releases with a tour down the West Coast, into Arizona and onward. This tour will feature the artist's individual performances, then explode with a shared set, that brings the audience to their feet. You can see the energy they share on stage in this video: https://www.youtube.com/watch?v=yXhHZNtvTJo Champagne Sunday - Endearingly labeled as "Pearl Jam meets Bette Midler", Champagne Sunday began in Ventura, CA, in 2005 migrating up to the Pacific Northwest in recent years. Husband and wife members Jessi and Jared Fredeen have been tearing up stages and crowds nationwide with their unique upbeat, roller coaster style shows, firing off gypsy-punk rock songs alongside everything from intimate tear-jerkers to anthemic foot-stompers. Described by Leanne Rimes as "the best band I've seen that's not yet famous", this act has a ton of energy, heart, and talent that makes for an engaging, powerful show. Together, Jessi and Jared have been able to create a sound that's totally unique, fun, and captivating, with a show that packs the power of an entire orchestra. Kim Archer - Known for her raw, powerhouse performances and personable interaction with her audiences, Kim Archer has attracted a large and loyal following of fans in the Pacific Northwest and across the country. She will be opening for Grammy-nominated artist, Mary Lambert at the University of Puget Sound on November 6th, 2015. For over a decade this lifelong musician has entertained standing-room-only crowds with her vocally-driven soulful rock and honest songwriting. Whether she's playing a premier venue with her award-winning band, or an intimate club for a solo show, Archer never disappoints. With guitar in hand she commands the stage playing her own original songs, or conjuring up a whole new vibe on vintage hits so that they sound fresh and wonderfully different.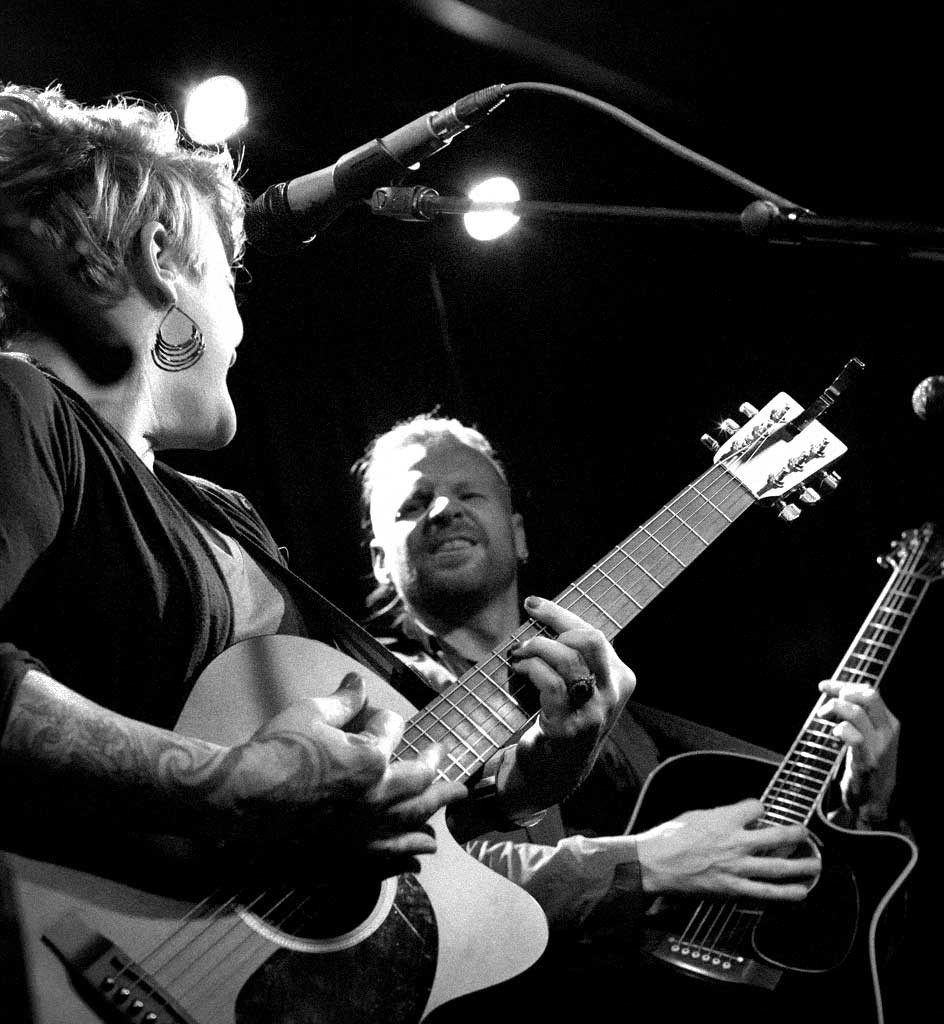 Discography
Click an album to order or download